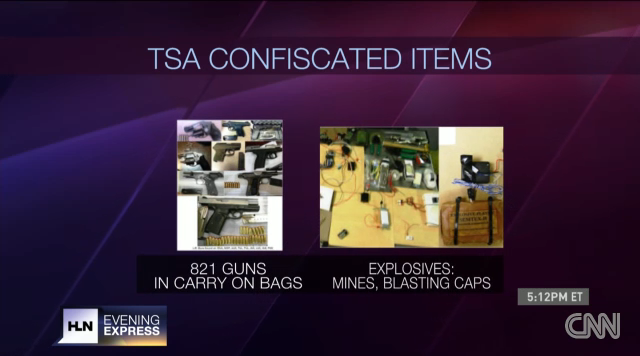 Vous voyagez léger ?
Aux États-Unis, il paraît, on préfère s'encombrer :
According to a new TSA blog, their agents have been busy keeping some crazy stuff off these planes.

From January to July, they found 821 guns in carry-on bags at checkpoints accros the country. Nearly 700 of them were loaded. The most popuplar gun of choice: a compact .38 caliber.

Explosives are also pretty popular. Agents found grenades, M80s, blasting caps, mines, IED training aids.
A la fin de la vidéo de CNN on conseille aux voyageurs de vérifier leurs bagages avant de partir à l'aéroport pour éviter de se retrouver dans la situation embarrassante d'être arrêté par la sécurité à cause d'un objet qui "passe en dehors de l'aéroport, mais pas à l'intérieur". Vous savez, le genre d'objets que l'on porte tous les jours pour se défendre, "au cas où"…
Moi, je conseillerais plutôt de réduire drastiquement le port d'armes en limitant leur circulation et commercialisation dans tout le pays. Mais bon, c'est ce genre de commentaires qui vont faire qu'on va me refuser mon visa la prochaine fois que j'en ferai la demande :P