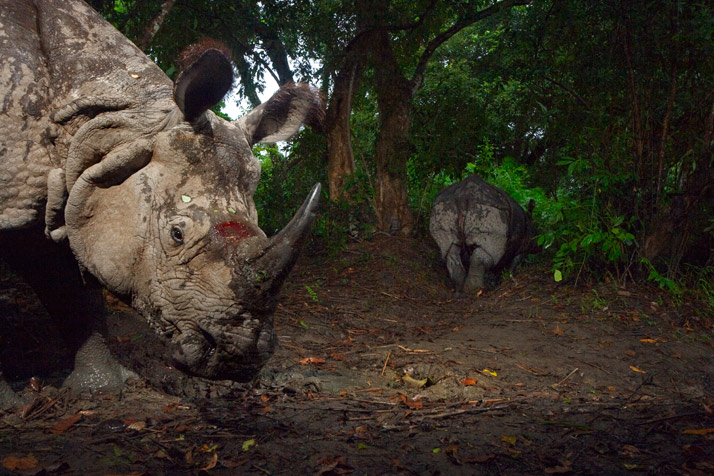 Kaziranga, India's Grassland Kingdom
[The] mother rhino [charged] through the trees on a course aimed to collide with ours. No chance to back up, no hope of accelerating out of trouble on the rough track. Hazarika, in the passenger seat, couldn't even get off a shot before the earth-glazed female clobbered the jeep, which she far outweighed. His door caved in. I realized the rhino was shoving us toward the road's edge and butting our rig up onto two wheels, and I'd better get ready to jump before she rolled us.

Unlike African rhinos, Indian rhinos don't gore an enemy with the spike on their heads. They bite with large, sharp lower incisors. The female's teeth were gouging deep grooves into the jeep's steel. Damn.
Source : National Geographic Magazine, août 2010
Et au passage, je vous invite à regarder la vidéo d'une autre attaque de rhinocéros vue depuis le dos d'un éléphant. Ça donne des frissons!
(Ah, et des points en moins pour National Geographic, qui fait tout techniquement pour m'empêcher d'intégrer la vidéo directement sur mon site… Ils n'ont pas trop compris comment marche le Web de nos jours apparemment.)
EAVB_DRBKRVMXHF