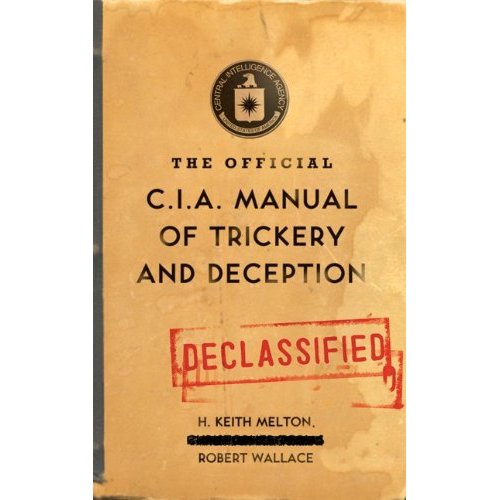 Le guide "tromperie et supercherie" de la CIA
Une traduction approximative du titre du livre The Official CIA Manual of Trickery and Deception.
Un manuel secret, écrit par un magicien, que la CIA a utilisé à une époque pour former ses espions. Aujourd'hui il a été rendu public et ça parle de plein de trucs intéressants : comment communiquer par signes cachés, glisser discrètement un cachet dans la boisson d'une victime, voler des documents ou encore, comment passer inaperçu.
Pas besoin d'en dire beaucoup plus pour savoir que c'est quelque chose qu'il me faut que j'aimerais bien avoir. Noël approche, donc si ça vous donne des idées, n'hésitez pas. Par contre, en tout cas chez Amazon, le bouquin n'est disponible qu'aux Etats Unis
donc si vous voulez me l'acheter au UK
ou en France
il faut s'y prendre 3-5 semaines en avance ;)