Your Avatars on the New Xbox Experience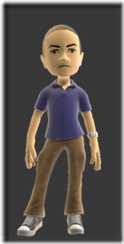 I was really looking forward to it because I wasn't fan of the "blades" at all, so I obviously logged on to Xbox LIVE last Wednesday to download the New Xbox Experience (NXE).
One of the new features of the NXE is the creation of avatars, which I was kind of forced to test even though I really, really needed to sleep. Avatars are not something new; we already had Miis on the Wii for example.
On the Wii they can be used as characters for certain games, but they're still just a few elementary shapes with a face that more or less might look like you. On the Xbox, even though I haven't tested any games that use the avatar as a character, the 3D model itself is of excellent quality! I don't claim to have created a clone of myself, but I think that it's recognizable enough.
Even better, Micrsoft is all about connecting devices, software, services, your car, … so it's just natural that your avatars can also come out of the Xbox:
Just replace (gamertag) by your own—in my case it's xboxMadd0 because someone had already taken madd0 :(
Download the NXE if you haven't already and have fun sharing your avatars ;)