No todos sus e-mails son para usted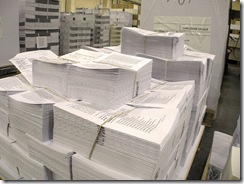 ¡Exacto! No todo lo que llega a su bandeja de entrada es para uno y, por lo tanto, no merece su entera y, sobre todo, inmediata atención.
¿Entonces, qué hace todo ese correo ahí en primer lugar? Básicamente, hay tres tipos de e-mail:
están los e-mails que nos mandan esperando una acción y/o una respuesta de nuestra parte;
están los e-mails que recibimos porque alguien quiere mantenernos al tanto ya sea mandándonos un e-mail directamente (o sea, nuestro nombre aparece en el campo Para) o poniéndonos en Cc;
y para terminar, están los e-mails que llegan a nuestra bandeja pero que no nos conciernen directamente. Me refiero sobre todo a las listas de distribución: ya sea listas a las que nos suscribimos para recibir información o listas a las que somos agregados automáticamente en nuestras empresas.
Esta es, por supuesto, sólo una de muchas formas de categorizar el correo.
Sin embargo, noten cómo cada una de estas categorías requiere intrínsecamente menos tiempo de su parte. Probablemente querrán revisar los e-mails de la primera categoría varias veces al día y hacer algo al respecto; la segunda categoría merece tal vez 3 o 4 visitas al día, nada más para mantenerse al tanto; y la última categoría debería manejarse fácilmente con una o dos visitas al día. ¿Sienten cómo está aumentando el rendimiento?
Claro, este aumento sólo existe si el programa que usa para leer e-mails puede clasificar su correo automáticamente. Yo uso Outlook 2007 y clasifico mi correo en las tres categorías mencionadas con dos reglas simples. Dejo las reglas en inglés porque no tengo una versión en español de Outlook, pero me imagino que igual entenderán:
Apply this rule after the message arrives where my name is in the Cc box move it to the @CC folder and stop processing more rules
Apply this rule after the message arrives where my name is not in the To box move it to the @Not for me folder except where my name is in the Cc box or except if sent to Important List 1; Important List 2
@CC y @Not for me son folders que creé bajo mi Bandeja de entrada. Representan las dos últimas categorías de mi lista. Los mensajes de la primera categoría, mis mensajes, se quedan en la Bandeja de entrada. Noten que agregué un par de excepciones a la regla general "Not for me", ya que yo sé que los e-mails que se envían a ciertas listas de distribución son igual de importantes que si mi nombre hubiera estado en la lista de recipientes.
Usando este sistema de clasificación automática, el e-mail se me hizo repentinamente mucho menos estresante, simplemente porque, aunque siempre veo correo sin leer en Outlook, rápidamente sé si se trata de correo que requiere mi atención inmediata (el correo que se queda en la Bandeja de entrada) o si es algo que probablemente no me interesa (el folder Not for me).
El sistema funciona mejor si sus amigos y colegas saben cómo dirigir un e-mail (o una carta). Yo igual puedo certificar buenos resultados inclusive sin entrenar a los colegas.
Espero que se diviertan clasificando sus e-mails ;)
Photo by I am I.A.M.