Great people meet at La Sorbonne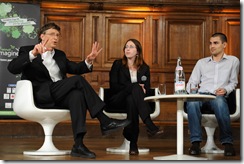 A few weeks ago I posted the pictures of the Imagine Cup conference that took place in Paris and during which I had the opportunity to interview Bill Gates.
An event like that was of course filmed and now the videos are also available for online viewing and for download from the web site of Microsoft France.
There are six videos:
Click on "Voir …" to view the video online or "Télécharger" to download.
Have fun!