The Devil Wears Prada to the next Live Meeting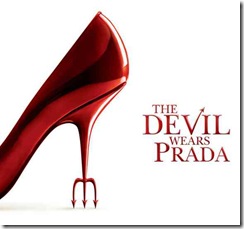 For a long time I've followed the same routing on Christmas day:
Wake up, unwrap presents, have breakfast, watch a movie, visit relatives.
Of course, over time, things have changed slightly. Most notably, the time I wake up, that fact most presents are actually opened the night before, breakfast became brunch and most of my relatives now live a 14-hour flight away.
Movie time didn't change, though, and today's was The Devil Wears Prada. I actually enjoyed it, But I'm not going to discuss movies tonight. After all, the blog's supposed to be "mostly tech" ;)
It just so happens that sometime later I was catching up with some of the RSS feeds I subscribe to (well, I did have extra time with the relatives living far away and all) and stumbled upon an entry from Eileen Brown with a couple of parodies of the movie I'd just seen. They're made by Microsoft to promote the Unified Communications suite. They're funny by themselves, even funnier if you've watched the movie. Here they are: