Imagine Cup 2007 Results, you cannot win every time
This post is long due, but I guess since it doesn't concern me I wasn't in a hurry.
No, I'm just kidding. Of course, the most exciting moment of every competition is the announcement of the winners, so here they are, in case you are not interested in the official press release:
Software Design
First place: Thailand — Team 3KC Returns/Project LiveBook!

Prachaya Phaisanwiphatpong, Vasan Chienmaneetaweesin, Jatupon Sukkasem, Pathompol Saeng-Uraiporn

Second place: Korea — Team En#605/Project Finger Code

Lim Chan-kyu, Min Kyoung-hoon, Lim Byoung-su, Jeong Ji-hyeon

Third place: Jamaica — Team ICAD/Project CADI

Imran Allie, Conroy Smith, Ayson Baxter, Damion Mitchell
Embedded Development
First place: Brazil — Team TriventDreams ED

Carlos Eduardo Rodriques, Andrew Wilson Furtado, Ivan Cordeiro Cardim

Second place: Romania — Team Aether

Alexandru Vranescu, Bogdan Tanasa, Ionel Vuza, Bogdan Holmanu

Third place: China — Team SEED

Huning Dai, Zhou Xue, Ziqing Ye, Dai Tang
Web Development
First place: France — Team APB

Benjamin Talmard, Thomas Albisser, Pierrick Blons, Sebastien Lam

Second place: Ireland — Team Red Dawn

Mohammed Al-Tahs, Marouf Azad

Third place: China — Team Frontfree Studio-Web

Jiasheng Guo, Weining Sha, Xia Xiao, Zhenda Zhao
Project Hoshimi (Programming Battle)
First place: Argentina — Team OIA

Pablo Gauna, Nicolás Rodríguez Vilela

Second place: France — Team Arenium

Laure Portet, Régis Hanol

Third place: Serbia — Team vladan.simov
IT Challenge
First place: China — Zhifeng Chen
Second place: France — Romain Larmet
Third place: Romania — Ilie Cosmin Viorel
Algorithm
First place: Poland — Przemyslaw Debiak
Second place: Ukraine — Roman Koshlyak
Third place: Hungary — Szilveszter Szebeni
Photography
First place: Poland — Team Maraqja

Iwona Bielecka, Malgorzata Lopaciuk

Second place: Croatia — Team Black and White

Aleksandar Kordic, Igor Matoša

Third place: Canada — Team Awesome

Patrick Struys, Ryan Marr
Short Film
First place: Poland — Team Skylined

Julia Górniewicz, Jacek Barcikowski

Second place: Taiwan — Team Circle

Chang Hao-Jan, Chang Shu-Wei, Tseng Yen-Chi, Lin Di-Er

Third place: Brazil — Team Papa Paçoca

Alexandre Nacari, Arthur de Pádua, Felipe Pellisser, Wendel Yokoyama
Interface Design
First place: Austria — Team OOT Graphics

Verena Lugmayr, Claudia Oster

Second place: China — Team Frontfree Studio UI
Third place: France — Team Atomnium

Manon Gaucher, Flavien Charlon
So, as you may have noticed, although the French team didn't qualify for the Software Design category, it still went home victorious with 4 other trophies!
I'm also very happy for the Jamaicans who won 3rd place in Software Design since they were representing Central America and the Caribbean, so in a certain sense, they were my team :)
Something else you may have noticed is that my name is not on the list. This was kind of expected since I never really finished the application I submitted for Round 2 of the competition, but it's still a bummer. On the bright side, I get to participate next year on whatever category I want.
And where will we compete next year?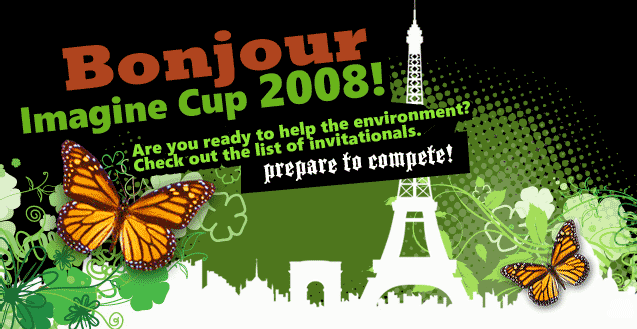 In case the Eiffel Tower and the Arc du Triomphe were not enough clues, the location is France. The finals of Imagine Cup 2008 will be in Paris, France, in July 2008. I'll definitively be there. Hopefully as a finalist.
So there you go. I still have a couple of posts about Imagine Cup and Seoul left to write, and then the blog will go back to normal.